Cheap Linux Hosting
Web Server India is the best web hosting company and is well-known as a trustworthy hosting provider. With our hosting packages, we give numerous web hosting capabilities that other hosting providers charge for.
Secure Linux Hosting with cPanel
Linux Hosting Servers are the best option to host your website on a stable, safe, and reliable platform. The term "Linux shared hosting" refers to multiple websites hosted on the same Linux server.
Low-Cost Linux Shared Hosting
Web Server India is the best option if you are looking to host your website in India at a low cost. Our Linux shared hosting plans include live chat, email, tickets, phone support, free SSL certificates, Softaculous, email account management, MySQL databases, antivirus software, add-on domains, and more.
The Best Web Hosting Provider
Web Server India offers hosting solutions to small, medium and enterprise clients in many countries. Our hosting plans are economical for businesses that run websites like WordPress online stores, content management systems, inventory web applications, news portals, python apps and more.
Aluva's Top Linux Hosting Company
Regarding web hosting companies in Aluva, Web Server India is one of the best and most popular hosting providers focusing on providing excellent service on a budget. You can choose from a wide range of web hosting packages on Web Server India. For customers who want to save money for the same web hosting solutions for which they are paying more with other hosting companies, then we will be the best and top choice for website hosting.
Cheapest Linux hosting with cPanel
The majority of websites run and are hosted on Linux Servers. Linux is powerful and flexible, allowing us to run any combination of web servers, database servers, email servers, file transfer protocol (FTP) servers, and PHP and MySQL (MariaDB) servers. We offer cPanel Hosting Control Panel with free LiteSpeed web-acceleration solutions for all your websites hosted on our Linux Server. We can modify our hosting plans to suit the needs of each customer.
Softaculous (450+ Scripts)
Perl
Python
PHP 5.6, 7.1, 7.2, 7.3, 7.4, 8.x
Databases
MariaDB
phpMyAdmin
MySQL Admin Tools
Remote DB Connection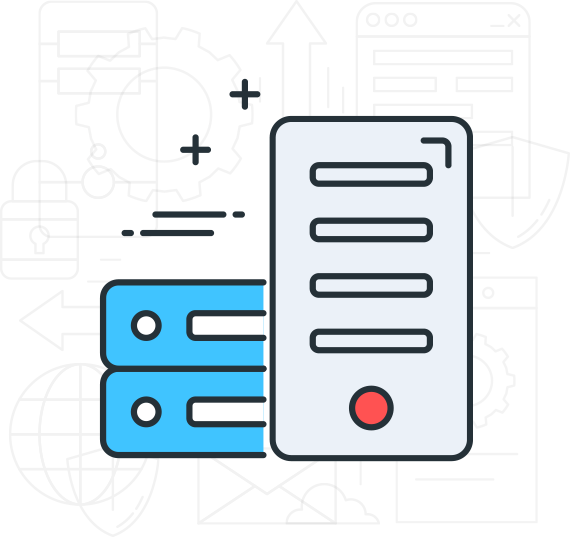 LiteSpeed with HTTP/3
Softaculous Premium
GD Library / Curl / Cronjobs
ionCube Loader
Security
Password protected folders
Hotlink Protection
Leech Protection
Imunify360 Proactive Defense, Malware Detection and Removal
Best Linux Website Hosting
Web Server India offers the most up-to-date and powerful Linux hosting plans for your website and applications. On our Linux Shared Hosting servers, you may host your PHP Website, CodeIgniter Website, WordPress Website, Magento Website, Joomla Website, or any other custom-developed PHP and MySQL-based websites or applications.
Best Data Center for Linux Hosting
We are experts in both Windows and Linux hosting environments. Our data center is built to offer high availability, lightning-fast speed, and high security for all hosted websites on our servers. Linux web hosting is cheaper than Windows hosting since most Linux software is free and easy to install on servers. We work round the clock to offer you the best hosting experience by offering smooth loading of your website on our servers.
All PHP Versions
Web Server India offers PHP hosting on its Linux Servers. We offer a variety of PHP versions (PHP 5.6, PHP 7.0, PHP 7.1, PHP 7.2, and PHP 8. x) to give the client maximum flexibility. PHP programming language is popular for developing online applications, and it is currently the most widely used programming language for creating websites and portals.
Limited Time Offer
- 25% OFF
Linux Hosting in Aluva Kerala India, 2023
Aluva Kerala
Hosting with Exceptional Lite Speed
On our low-latency hosted servers, your e-commerce site will function flawlessly whether it was built with Magento, Open Cart, PrestaShop, or another framework. Our servers are optimized for online stores. Even under heavy load, your site will continue to function smoothly. No matter what platform you used to create your website—be it WordPress, Joomla, AbanteCart, OpenCart, SMF, phpBB, Open Real Estate, MyBB, pH7Builder, Dolphin, Laravel, CMS Made Simple, WHMCS, Concrete CMS, Contao—you can take advantage of our services.
Python hosting in Aluva
On our Linux servers, we support the following Python Versions: Python 2.7.18, Python 3.10.4, Python 3.3.7, Python 2.4.9, Python 3.5.9, Python 2.6.15, Python 3.7.12, Python 3.8.12, Python 3.9.12. cPanel's Setup Python App tool allows it to install and run Python software alongside the Apache web server. The cPanel >> Setup Python App interface allows you to test its operation.
Two-factor authentication option
Two-factor authentication is a way to double-check your identity to ensure that only authenticated users can log in to the cPanel. The goal is to make it harder for unauthorized people to enter your cPanel Hosting Control Panel. The authentication is helpful in those situations when you want that your web developers will be granted to login to the cPanel only when you will share the latest 2-Step Verification code generated from your Authenticator Application like Google Authenticator™, Duo Mobile and Windows® Phone — Authenticator. The 2-Step Verification goal is to make cyberattacks harder and fraud less likely to protect your hosting resources.
Linux Hosting Features List Updated on 6th February, 2023.
Linux Hosting in your Cities: