WINDOWS HOSTING TECHNICAL SPECIFICATIONS
All of these Features are included in all Plesk Windows Hosting Plans.
Let's Encrypt SSL Installation
File Manager
.Net Version Manager
CloudFlare CDN
Databases
MariaDB MySQL
phpMyAdmin
MS SQL Database Manager
Database Dump Download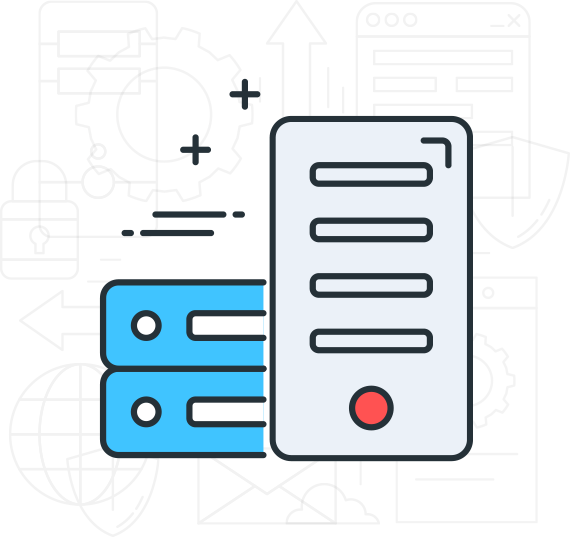 HTTP/3 Enabled Servers
DNS Zone Editor
E-Mail Account Management
One-Click DKIM Publishing
Security
MailChannels Mails Security
Enable Disable Security Rules
24x7 Server Monitoring
Daily Backup
Limited Time Offer
- 25% OFF
Windows Hosting India, 2023
Web Server India is a trustworthy Windows hosting company. Our hosting plans are ideal for websites that use ASP.NET, MSSQL, or ASP.NET Core. We also include the Plesk control panel, which makes managing your website, email, and database a breeze. Furthermore, we offer expert support 24 hours a day, 7 days a week, as well as a 45-day money-back guarantee.
With our fully managed website hosting, Web Server India offers best-in-class Windows hosting plans for small and medium-sized business owners. Our servers are located in Noida, India. ASP/ASP.NET 3.5 and 4.6, ASP.NET MVC, ASP.NET Core, AJAX, MySQL, and MS SQL 2016 are all included in our Windows shared hosting plans.
Partner with Web Sever India to get the most out of your Windows web hosting experience. We provide the features you require to run your ASP.NET, MS SQL Database, and ASP-based applications. Our SSD-powered servers ensure that your website loads quickly.
Our Hostig Plans include SmaterMail Enterprise. Emails can be securely accessed from any web browser on Windows, Mac, or mobile devices. We support the POP3/IMAP/SMTP email protocols for sending and receiving emails.
Your Windows hosting account will be activated automatically as soon as we receive your payment.
Windows Hosting Features List Updated on 6th February, 2023.
Windows Hosting in Indian States:
WHAT OUR CLIENTS HAVE TO SAY ABOUT US
Endorsement from our customers for the various services we provided. Please read about their personal service experiences.
Questions and Answers About Windows Hosting
We have explained Windows Hosting, DNS Server, ASP.NET Versions, ASP.NET Core, ASP.NET, MS SQL Database, and other topics.
What exactly is Windows hosting?
Windows hosting is a type of website hosting in which your website or websites are hosted on the Microsoft Windows Server Operating System. On a Windows Hosting Server, you can host your website pages or website applications written in HTML, C#, VB.NET, Classic ASP, ASP.NET, ASP.NET Core, or ASP.NET MVC.
Windows hosting is also known as .NET Hosting, and .NET has a large standard set of class libraries known as base class libraries and framework class libraries. Many general and app-specific types, algorithms, and utility functionality are implemented in these libraries.
Many businesses prefer Windows hosting because it ensures the security of the ASP.NET pages or application code, which is compiled and stored in .DLL files. The .DLL file has the advantage of compiling all of the code behind programming for the web pages and storing it in the BIN Folder on the server. Because your business logic, codes, and credentials are encrypted in .DLL files, hosting your website on Windows Server will give you peace of mind.
What is the difference between Linux hosting and Windows hosting?
Linux and Windows are separate operating systems. Linux is the most popular web hosting operating system. Linux servers are popular because they have more features than Windows servers, which are designed to meet the needs of website designers and web developers.
Nowadays, the cPanel Web Hosting Control Panel is popular for hosting websites because it includes features that help in the hosting, management, configuration, backup, and promotion of websites. Linux hosting is popular because website pages are programmed using a plain text editor in the PHP programming language, which allows programmers to manage all codes on the same page.
Classic ASP offered the same features a long time ago, and at the time, Classic ASP was a popular programming script for developing pages because all the codes were easy to manage on the page, but later technologies, such as ASP.NET, had many issues in terms of SEO.
Companies and individuals design and develop websites in order to easily promote them after they have been developed and hosted on a server. The fact that Windows Server and its technologies do not meet the website owner's intent for easy website promotion is the major reason they are less commonly used by web designers and developers.
The majority of web hosting companies now use cPanel as their control panel for Linux web hosting servers. cPanel appears to be promising because it is constantly adding and improving applications and features that web developers and designers desire. Plesk is a well-known control panel for hosting websites on Windows servers.
What SQL Server version do you have?
SQL Server 2016 Databsae is supported by our ASP.NET Windows Hosting plan. It is possible to connect remotely from Microsoft SQL Management Studio for SQL Server DB. You may manage MariaDB Database from phpMyAdmin Online.
Is your Windows hosting service stable and reliable?
Yes, your website will be hosted on powerful Dell servers with plenty of RAM and processing power. "We can guarantee 99.9 percent uptime." We constantly monitor our servers' performance and other security issues. We ensure that your website hosted on our servers runs smoothly and that you get the most out of our Windows Hosting services.
Do your Windows hosting plans include free email hosting?
Yes, all of our Windows Hosting plans include SmarterMail Enterprise Email Hosting. We use MailChannels whcih is an email delivery service that protects your email reputation. MailChannels filters spam before sending email, allowing you to send user content to email providers with confidence. Also we use most recent version of SmarterMail Enterprise and our email services are stable and secure.
We also provide one-click integration of DKIM records into your hosting DNS. DKIM adds a signature header to emails that is secured with a public and private key pair and a certificate.
You can explore SmarterMail Hosting Features to ensure that you will receive the best Email Hosting solutions for free with your Windows Hosting Plans.
Is a SQL Server database provided for free?
Yes, on certain plans, a single or multiple free MS SQL databases are provided. However, SQL Server Database can be purchased as an add-on service for those plans that do not include it. All shared hosting plans include a free MariaDB MySQL database. Connecting to MS SQL and MySQL databases is fully supported by ASP.NET.
Do you support multiple ASP.NET versions?
Yes, we support Classic ASP, ASP.Net Frameworks 4.x, 3.x, and 2.x, ASP.Net Core 6.x, 5.x, 3.x, 2.x, and 1.x, and ASP.Net MVC 5 & 4 with our Windows Hosting Plans on Windows Server.
What is the Plesk control panel?
Plesk gives you control over your Windows hosting account. You can easily manage your domains, subdomains, emails, databases, FTP accounts, and much more using the Plesk control panel. A versatile web-based control panel that simplifies website management through the use of a graphical user interface.
The Plesk control panel makes it possible for your website to run smoothly. It eliminates common technical errors for improved website performance. IT administrators can manage their accounts and other features with the Plesk control panel. It is simple to learn, quick, and well-structured.